Inspection of Gallery Apartments in the Netherlands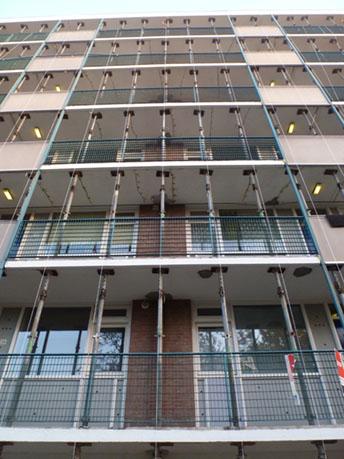 In 2011, a cantilevered reinforced concrete gallery floor in the Antillenflat in Leeuwarden collapsed. After investigating the incident, SGS found that gallery floors built in the Netherlands between 1955 and 1970, which are attached to the interior floors of homes, could have structural problems. The gallery floors could be too lightly reinforced and corrosion could have weakened the reinforcement.
After investigating the incident, SGS determined that in order to prevent more collapses, the safety of these gallery floors had to be reassessed. SGS created an inspection protocol to ensure the safety of cantilevered reinforced concrete gallery floors and balcony floors. This protocol affects gallery apartments built before 1975. Minister Blok of the Housing and Central Government sector has stated that all such gallery apartments must be inspected before July 1, 2017.
The inspection protocol has been commissioned by the Ministry of the Interior and Kingdom Relations and the national association of housing corporations AEDES. The inspection protocol can be found in CUR publication 248, revised edition 2014: Structural Safety of Cantilevered Gallery Plates. The publication contains a step by step explanation of how the structural safety of cantilevered concrete floors should be investigated.
Find out about possible risks to your gallery apartment
If you own a gallery apartment in the Netherlands, we can quickly and efficiently provide information about potential structural risks. We can help you to comply with the inspection protocol, and we can provide creative solutions when the protocol is not sufficient.
Our services include:
File research
Visual inspections
Research on reinforcements
Research of material properties (concrete and steel)
Constructive assessments
Research on chloride content and cracks in concrete
Establishment of an advice or recovery plan
Supervision of reparation
Second opinions
For more information, please contact:
Mursel Sahin 
Industrial Consultant Construction and Building Materials
SGS INTRON B.V. Culemborg
Venusstraat 2
NL-4105 JH Culemborg
postbus 267
NL-4100 AG Culemborg
t:  +31 0(345) - 58 51 70
e:
mursel.sahin@sgs.com