SGS participates in the development of self-healing roads
The European HEALROAD Consortium is working on the development, optimization and validation of self-healing asphalts. SGS INTRON takes part in the consortium. During Infravation in Cologne on Thursday 26th October, the progress on self-healing asphalt was presented during a workshop.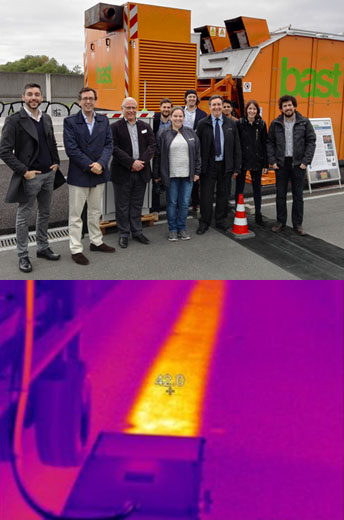 Steel fibers have been added to the asphalt. Before the asphalt is damaged in time i.e. due to raveling, it is possible to heal the micro cracks by induction. With this technique, the top layer is heated and renewed. This allows the road surface to be reused for a longer period.
The objective of the consortium is to develop a technique which ensures the best value for money and resource efficiency from a road asset perspective. For example, metal from end of life tires were tested for the steel fibers. Another object is to improve traffic management by reducing the number of roads for maintenance.
The self-healing asphalt has been used in various places in The Netherlands since 2010, including Vlissingen, Tilburg, Enschede, the N348 in Gelderland and since this summer it is also available in Bergisch Gladbach on the Eastern side of Cologne, Germany.
The HEALROAD consortium consists of SGS INTRON, Federal Highway Research Institute (BASt), Heijmans, University of Nottingham, University of Cantabria and the European Union Road Federation (ERF).