NEN-EN-ISO IEC 17025 Accreditation for destructive metal tests
SGS is pleased to announce that the NEN-EN-ISO/IEC 17025 accreditation for its material engineering laboratory at SGS INTRON has been extended with the addition of a series of destructive metal tests.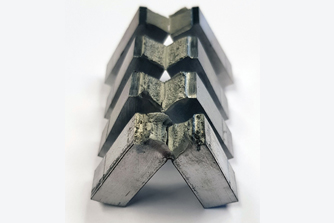 The Netherlands' Accreditation Council (RvA) amended the scope on April 17, 2019, and concerns the following tests:
Tensile testing up to 50kN

Charpy impact testing up to 750 J

Macroscopic examination of welds

Bend testing of welds
Expansion of accreditation
In addition to the current extension of the scope, other destructive metal tests will also become part of accreditation in the long term. To be able to offer a complete package, SGS staff in the Netherlands work closely with colleagues from Germany. The following tests are up for accreditation:
Tensile testing up to 1500 kN

Break strength testing

Vickers hardness testing

Corrosion testing
European standard for testing and calibration laboratories
The NEN-EN-ISO/IEC 17025 standard "General requirements for the competence of testing and calibration laboratories" is the international standard for laboratories with testing and calibration activities. The production of reliable and valid results underlies all laboratory activities. With ISO/IEC 17025, laboratories can implement a robust quality system which can demonstrate that it is technically competent and capable of producing valid and reliable results. Test reports and certificates are accepted across borders, without further testing, which promotes international trade.
Contact us for more information
If you would like to know more about our destructive metal tests, please contact us:

Mario Delamboy
Business Development Manager
E-mail: mario.delamboy@sgs.com
Phone: +31 (0)88 214 52 04 / +31 (0)6 11 04 83 10