SimDist analysis quickly provides valuable information
Simulated distillation is a Gas Chromatography (GC) method used to characterise petroleum fractions and products based on their boiling point. One of the most widely used analysis techniques in the petrochemical industry is Simulated Distillation. With the SimDist analysis, the hydrocarbons are separated in order of boiling point.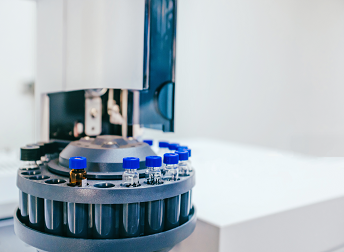 Why simulated distillation?
An analysis of petroleum fractions is a fast-reliable analytical way for the determination of boiling points, as well as to perform checks against the conventional distillations that are widely used in refineries. This information can be to help determine the most efficient way to control and regulate the distillation process.

Knowledge of the boiling range of petroleum products is essential for:
Quality assurance;

Boiling point distribution data is an important specification when characterising petroleum products;
Control of refining processes;
Predicting physical and chemical properties;
Compliance with the environmental laws.
Routine distillation tests are used to determine the boiling range. There are various standardised applications for SimDist. The following applications are supported by SimDist:
| | | |
| --- | --- | --- |
| Application | Objective | Boiling point [°C] |
| ASTM D2887 | Gasoil and Jet Fuel | 36-538 |
| ASTM D6352 | Lub Oils, Base Stock | 174-700 |
| ASTM D7169 | Crude Oil and Residual Sample | 36-720 |
| ASTM D7500 | Lub Oils and Not Residual Samples | 100-735 |
| EN15199-1 | Not Residual Samples | 100-750 |
| EN15199-2 | Residual Sample | 100-750 |
| EN15199-3/IP545 | Crude Oil | 36-750 |

Figure. 1 Overlay of chromatograms from a qualitative mixture of normal paraffins and a reference gas oil, comparing their boiling point distribution.

A complete simulated distillation analysis can be performed in 40 minutes and provides an accurate calculation of the true boiling point data - of all the petroleum products.

More information
Our experts are happy to provide you with more information about the SimDist analysis. Please contact them via e-mail or by phone via 31 (0) 88 214 3340.