Shipping drums by air freight: SGS has the solution
Air freight shipping is part of a highly secure transport chain that presents many companies with a considerable challenge. This is because freight shipments must meet specific rules and regulations prior to air transport. One requirement is that it must be reasonably guaranteed that the cargo does not contain any prohibited items. This guarantee can be achieved in various ways. SGS, a Dangerous Goods Specialist and Regulated Agent, has the capabilities to support your company in meeting the requirements.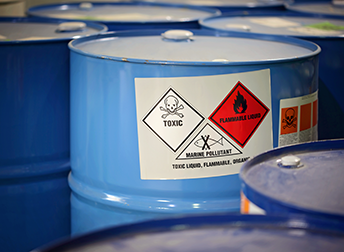 Prior to transport, the cargo intended for air freight shipping must meet specific rules and regulations. This requires up-to-date specialist knowledge of the logistics chain, modified repackaging facilities and, in many cases, also the status of Regulated Agent or Known Consignor.

Screening method for drums
Until recently, X-ray machines and explosives detector dogs were used to screen drums for prohibited items. These screening method however, pose the following problems: screening by dogs is not possible if air cannot escape from the packaging and drums cannot be screened by X-ray machines if the permeability of the contents and/or packaging causes a poor image.

'Black spots' are often experienced when screening drums. For this reason, the Royal Netherlands Marechaussee has announced enhanced surveillance of this screening method. There are three options available and SGS can assist you with each of them.
Shipping drums by way of a safe logistics chain, i.e. by a Known Consignor or Regulated Agent. Obtaining the status of Known Consignor or Regulated Agent is subject to very strict conditions. SGS can assist your company in achieving this status in order to streamline your logistics activities.
Security screening using X-ray machines. In this case, the permeability of your drums and their contents is essential for a successful screening. Permeability can be increased by shipping or decanting in smaller drums. An X-ray test offers clarity in this regard.
A visual/manual security screening on location at a Regulated Agent. This entails decanting the contents into different drums of equal size. As a Regulated Agent, SGS can provide this service and ensure that your drums are shipped as secure air cargo in accordance with the applicable rules and regulations.
Interested?
We would be happy to help ensure that your drum cargo can be shipped quickly and safely. Contact us by e-mail.