New fully automatic hardness tester
Our metal testing facilities have recently been expanded with a fully automated micro Vickers and Brinell hardness tester.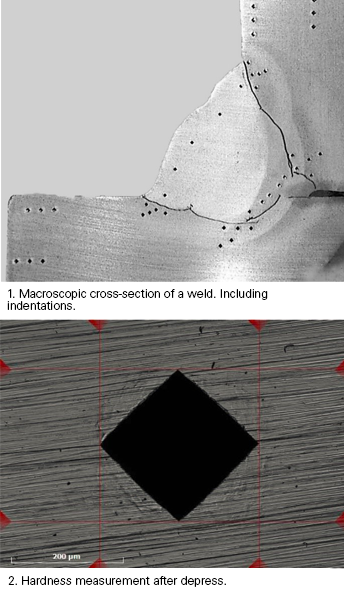 In addition to regular hardness testing, this instrument is ideally suited for larger numbers of measurements on a single specimen, such as welding trajectories, hardening depths (CHD, SHD, NHD), threaded measurements and 2D hardness profiles. With a power range of 1 gf to 62.5 kgf, we offer the possibility of testing very thin materials, as well as the standard HB62,5 measurements of aluminum.
Testing capabilities and standards
Vickers Hardness: ISO 6507-1
Welding trajectories: ISO 9606-1, ISO 15640-1
Hardening Depths: ISO 18203
Threaded measurement: ISO 898-1
Accredited metal testing laboratory
We offer independent destructive metal testing in our accredited materials engineering laboratory. We determine the quality of metals, such as ferrous metals and non-ferrous metals, mechanical devices and mechanical components, by identifying the properties of products. As a result, you can be sure your products are reliable and safe. We test for the following international, European and national standards:
Tensile properties: EN-ISO 6892-1
Impact testing: EN-ISO 148
Hardness testing: EN-ISO 9015
Bending tests: EN-ISO 5173
Break tests: EN-ISO 9017
Macroscopic testing for welding: EN-ISO 17639
Learn More
For more information, please fill in our contact form or contact 0031 88 – 214 52 04.