New Vehicle Inspection
Unfortunately, new vehicles do not always arrive in pristine condition at their destination from the production location. We determine the damage to vehicles during transport for you and help you prevent damage.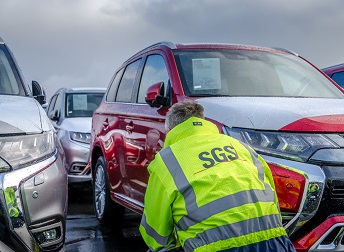 Every week, tens of thousands of vehicles of all brands pass through the port of Zeebrugge alone from different production locations. Ports are busy logistic points because the vehicles go from the port in special terminals by ship to other ports or on to the dealers by train or lorry.

The vehicles may sometimes incur damages during this logistic journey from production location to the dealer. As a brand, importer, shipping company, or terminal operator, it is difficult to determine who should pay for any damage. An independent party therefore inspects the vehicles during crucial stages in their logistical journey in order to allocate possible damage to the responsible party.

We as SGS are such an independent party: We have been checking vehicles with 'New Vehicle Inspections' in the Belgian and Dutch ports for more than 25 years.

We report the damage claims to the responsible party
Without an independent party, it is not clear who is responsible for transport damage. You as a party in the car trade, could wind up paying enormous costs. On average, we find transport damage in 2.2% of the vehicles we inspect. It seems a small number, but the high volume of vehicles means that damage claims may arise.

We inspect the vehicles at all crucial points and know exactly when damage was done. Through these inspections, we know which party is responsible.

We help you prevent damage
Naturally, transport without damage is the most favourable situation. But our experience has taught us many of the ways things can go wrong and we actively look for the cause of damages so that they can be avoided in the future if at all possible.
Additional work
Of course, it is efficient in terms of time and man-hours if the same inspector not only actively searches for transport damage, but also identifies other important aspects. That's why, at the request of many clients, we also check the number of spare keys, manuals, official documents, antennas, and specific accessories, for example.

Types of damage
The most common types of damage are parts that have been scratched, scuffed, or chipped. This damage is most often found on the front doors, front and rear bumpers, and door edges.
Do you also want to be sure that damage is attributed to the right party? Then please don't hesitate to contact us.
Do you also want te be sure that damage is allocated to the right party? Please feel free to contact us Rob Nuyts at +32 (0) 470 53 65 47 or rob.nuyts@sgs.com.