Toxic compound found in distributed sesame seeds
In recent weeks SGS found the presence of Ethylene Oxide and 2-Choroethanol in a large percentage of the parcels with distributed sesame seeds. Ethylene Oxide is known to have strong insecticidal properties. This is a toxic compound implying low MRLs for food matrices or related substances.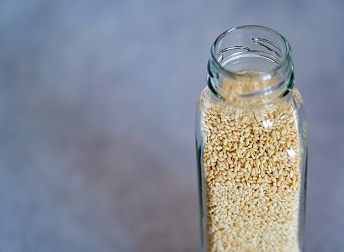 Separate analyzes for better understanding
SGS believes that the separate determination of both Ethylene Oxide (EtOx) and 2-Chloroethanol allows a better understanding of possible contamination. That's why we developed an in-house method, following all necessary procedures, to report the results under ISO 17025 accreditation.
Technique: Head Space GCMS
Principles:

Both compounds are being determined by means of Head Space GCMS.
A certain amount of the samples is being weight (depending on type of matrix).
For each type of matrix (per series of measurements) a sample peak of 0.05 µg (0.05 mg/kg) is analyzed.
For EtOX and 2-Chloroethanol two separate analytical runs are done (in order to distinct Etox from acetaldehyde).

Reporting limit: 0.02 mg/kg.
Both compounds are reported separately.
Capacity: +/- 30 à 35 samples per two days.
Accreditation: for the moment we have it for sesame seeds and quinoa. Other types of matrices will follow in a short notice (prepared products like crackers, herbs and spices).
Want to know more?
If you wat more information please feel free to contact Luc de Ren, us on +32 3 545 85 84 or be.ehs.sales@sgs.com.