The Oosterweel link: a complex challenge for underground cables and piping
In the coming years, the Oosterweel link will round off the Antwerp ring road through a series of tunnels and trenches. Such large and complex infrastructure projects require good preparation, including in terms of the infrastructure of underground cables and pipes. Our SGS (Roos+Bijl) colleague Johan took on this challenging task as the interface/tactile manager on behalf of VTTI contractor Ocotech.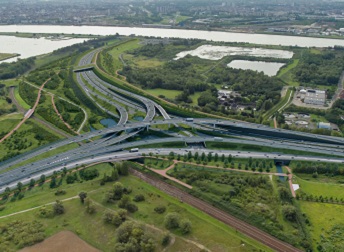 It is very important to ensure that the construction of various engineering structures – such as tunnels, viaducts, motorways/roads, and bicycle and pedestrian paths – in a busy urban environment is integrated and phased. The various activities must be coordinated in advance with the civil parties involved. Due to the size of this project, various (construction) parties and (utility) administrators are involved. Each stakeholder has its own interest in the project. The technology, such as technical installations, including fire extinguishing systems in the tunnels, is also an important part of such projects. It is therefore a challenge to map out and organise the integral interfaces in the area of underground cables and piping between all civil parties involved and the technology. In other words, where do these cables and piping cross in the tunnel? Or are they too close together? What interfaces are there with (to be constructed) structures in the project?
Integral approach
As interface manager, Johan de Leeuw is responsible for the integrated approach to the Traffic & Tunnel Technical Installations (VTTI) for the Oosterweel link. According to Johan, "There are as many as 55 different types of technology to be mapped. This includes things like technical installations for lighting, power supply, communication and dynamic traffic systems (such as speed, lane signalling, detection loops, control installation, and traffic lights) as well as the technology required for the tunnels (including detection, basement pumps, ventilation, and safety measures such as fire-extinguishing systems, cameras, and emergency/escape doors)." Limiting the impact on the functioning of this crucial traffic junction and the underlying connections is also an important starting point.
Exchanging interfaces digitally
It is important to have a clear picture of the integral interfaces during all phases of the project. This project involves an insane amount of (underground) cable and piping interfaces. These interfaces are exchanged digitally in a Building Information Model (BIM) model. Appropriate solutions are sought where cables and piping clash. "It is a wonderful challenge to coordinate the diversity of techniques in civil tunnel, road, and viaduct construction in an integrated way without compromising functionality," says Johan.
The Oosterweel link in a nutshell
The Oosterweel link, a project by Lantis (Leefbaar Antwerpen door Innovatief Samenwerken), is an ambitious and complex project that is not only working on smoother and safer traffic, but is also committed to a city where it is good to live, reside, and work.
The preparatory work has already started. The link is expected to be completed in 2030. SGS is involved in several phases of the Oosterweel link.
Are you curious about what other services we can provide for similar large infrastructure projects? Click here.
Do you have questions about this project or similar projects? Please contact Koen Seutin, our expert in the Oosterweel project.