SGS deploys versatile expertise during construction of HES Hartel Tank Terminal
The construction of the HES Hartel Tank Terminal is in full swing. Through the versatile expertise and the latest techniques and insights within SGS, we have been able to serve this terminal in several areas in terms of inspections during construction.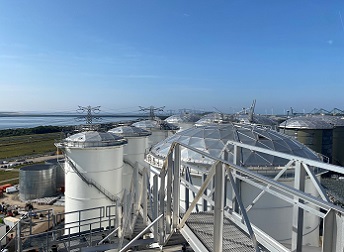 A tour at the HES Hartel Tank Terminal on Tuesday the 7th of September showed clearly that a unique terminal is being built. The use of experts during the construction contributes to the realisation of a state-of-the-art terminal. We are proud that we have been able to perform many activities here during the construction, including:
SGS Industries & Environment is responsible for the weld testing of all piping that connects the tanks and installations. Over the entire terminal there are several pipe bridges and manifolds where SGS examines the welds with the help of Radiography on a daily basis.
SGS Measurements & Calibration takes care of the calibration of all land tanks (measuring tanks) including several extra measurements on the tanks on request of HES, like a roof plan and settlement measurements.
When the terminal is fully operational SGS can provide the following services:
Quantity & Quality inspections;
The in-line calibration of liquid meters up to 1200 m3/hr;
The IVK and HIVK (statutory inspections) of ATGs;
The recalibration of land tanks after maintenance activities;
Stock measurements;
The flow proportional injection of all kinds of additives to various products with ATEX approved equipment.
We are pleased that we have built a good relationship through our fine cooperation and look forward to seeing what other cooperation is possible in the future.
Want to know more about these services? Please contact Peter van Ommen by email or phone +31651404877.