1st Netherlands North Rhine-Westphalian Energy Conference
About
Starts
10 Sep 2012, 11:30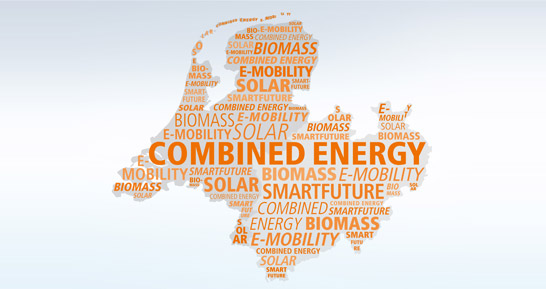 Welcome to Combined Energy: September 10 - 11, 2012, in Heerlen
To our intended guest,

We have the great joint honour of inviting you to Combined Energy on September 10 and 11, 2012, in Heerlen, The Netherlands.

The future of the energy arena
This 1st Netherlands-North Rhine-Westphalian energy conference is aimed at intensifying the cooperation between companies and knowledge institutions from both sides. It will also review extensively the expected impact and business opportunities of new technologies in the energy market for the present and the future - in four exciting workshops:
1) Solar Energy
2) Smart Future - Cities, Homes, Grids
3) Bio-based Economy
4) Electromobility

Your hosts
NL Agency is a department of the Dutch Ministry of Economic Affairs, Agriculture and Innovation that implements government policy for sustainability, innovation and international business and cooperation. It is the contact point for businesses, educational institutions and government bodies for information and advice, financing, networking and implementation of regulatory matters.

The EnergyAgency.NRW has been working on behalf of the North Rhine-Westphalian Government since 1990 as an operative platform with broad expertise in energy matters: From energy research, technical development, demonstration, market launch and energy consultancy to continuous vocational training.

Urgency to cooperate
Innovative energy ideas aren't making waves in The Netherlands or Germany alone: Neighbouring countries are just as eager to successfully introduce innovations for sustainable energy. There is widely felt need for new thinking in the energy arena.

Join forces in research and business
Therefore join forces with researchers and entrepreneurs. Visit the Combined Energy Conference on September 10 - 11 in Heerlen, The Netherlands.
We're looking forward to a conference full of energy. Are you?

Yours sincerely,
Dr. Frank-Michael Baumann Rob Boerée
Managing Director Director NL Energy and Climate Change
EnergyAgency.NRW NL Agency
SGS INTRON at the Energy Conference
Rico van Selst, Business Development Manager at SGS INTRON will inform you about 'Optimized integration of renewables in the Built Environment', on September 10th, at Workshop 2, covering Smart Future - Cities, Homes, Grids.

Harrie Janssen, Senior Consultant New Energy, will attend the conference. You can meet him at the SGS INTRON booth.