Expert Quality Assurance for the Construction Industry
Confirm the quality of your construction materials, products, processes, services and systems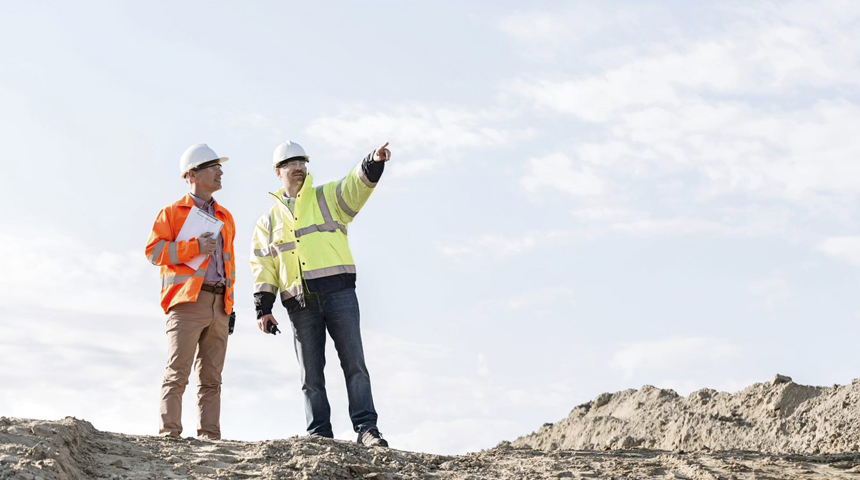 The construction industry is subject to a wide range of regulations, standards and laws. As an independent verification and certification body, SGS provides inspection services to ensure your compliance with the relevant requirements. Wherever your customers and sales markets are in the world, we will get you the certification you need to grow your business.
Contact us for more information.
Our Assessment Directives and Certificate Holders
Our Services
We offer a wide range of certification services for a variety of building materials and processes:
| | |
| --- | --- |
| Soil | From batch testing of ground to soil remediation, we offer soil and ground certification, including BRL SIKB 1000, BRL SIKB 2000, BRL SIKB 2100, BRL SIKB 4000, BRL SIKB 6000 and more. |
| Building materials | Ensure the quality of raw materials in construction products, such as sand, gravel, stone and recycled granulates. We offer certification for a range of standards, including BRL 2307-1/2, BRL 2506-1/2, BRL 9322, SPC00033 and many others. |
| Roofing, facade and insulation materials | Confirm that your insulation materials, roofing materials, facade panels or fastening systems comply with the relevant requirements. We provide a wide range of certifications, including BRL 1301, BRL 1511, BRL 4101, BRL 4713 and more. |
| Concrete | The Concrete Sustainability Council (CSC) Mark is a global quality mark that demonstrates responsibly sourced concrete. As a co-founder of CSC, we can help you obtain your CSC Quality Mark. |
| Refrigeration technology (BRL 100 and STEK) | We can certify you in accordance with BRL 100 and STEK. BRL 100 is the mandatory F-gas certificate. STEK certification confirms quality, durability, safety and corporate social responsibility. |
| Sports floors | We are recognized as an inspection and certification body by NOC*NSF, FIFA and the International Hockey Association (FIH). We can carry out inspections of sports floors against national and international standards. In addition, we can determine the sustainability of sports accommodations. |
| Impermeable Facilities | We certify the construction and repair of liquid-tight facilities (by contractors) based on BRL SIKB 7700 and inspect existing liquid-tight facilities based on SIKB AS 6700. |
| Pressure Equipment Directive (PED) | We can issue certification to confirm that you can design, develop, build and use pressure vessels, tanks, boilers and process plants in compliance with strict local and national laws. |
| CE Marking (CPR) | We will help you demonstrate that you meet the European requirements, according to the Construction Products Regulation (CPR), for your construction product, so you can apply CE marking. |
| KOMO Certification | We will help you demonstrate compliance with the guidelines for obtaining a KOMO certificate, which is widely recognized in the Dutch construction industry. This certificate proves that your construction product and quality systems are recognized by an authorized certification institute. |
Additional Certifications and Services
ISO 9001 (Quality Management Systems)
ISO 14001 (Environmental Management Systems)
BRL SVMS 007 (Safe and Environmentally-friendly Demolition)
CO2 Performance Ladder
SSC Checklist for Contractors

BRL 3201-1 Technical repair and protection of concrete
BRL 3201-2 Structural repair and reinforcement of concrete
ISO 14021 Environmental labels and declaration
BRL EPD (under development)
Manufacturer's Own Declaration (FEV)
Why SGS?
| | |
| --- | --- |
| Accreditation | We are accredited by the Dutch Accreditation Council (RvA registration numbers C015 and I213). You can rely on us for independent advice and research. We work according to current standards and procedures to guarantee the best possible solutions with the highest quality and reliability. |
| Independent expertise | Our employees are active in specialist colleges and involved in the development of standards. With in-depth knowledge of national and international regulations and standards, they can show you how certification can strengthen your position in the market. |
| State-of-the-art facilities | Our modern, accredited SGS INTRON B.V. laboratory offers comprehensive testing of your products to map features for regulatory compliance and/or application requirements. |
SGS INTRON Certificatie Regulations
Subscribe to the SGS INTRON Bulletin for more information about the work of SGS INTRON, customer stories, developments and regulations in the market.
Contact an expert for more information.
Or complete the form: